Last spring, I read a Time magazine article on the best blogs, which led me to my favorite movie site,
/Film
.
/Film
has a "Cool Stuff" article, which features, well, cool stuff you can buy. One day, they had this cool t shirt that I considered buying for a friend. I didn't because I was broke, but I considered it. The shirt in question was this:
I followed the link to the website where this was available, and I found something that ended up being way cooler than this shirt.
Teefury
is an awesome idea. Every day, the teefury staff selects a new image for a t-shirt. This shirt is available for 24 hours,
only.
After 24 hours, the shirt isn't available any longer.
Every once in a while, they have
"Grab Bag"
days, where you can pay 5 bucks a shirt and get a random design. You don't have a choice as to what shirt you're getting.
The advantage that Teefury has over buyers, I've noticed, is a sense of urgency. I've seen cool designs on the site that I wasn't sure about. Well, I had to make a decision right then and there, because guess what? There was never a chance for me to get the design ever again. I did luck out on a grab bag and got a shirt I was on the fence about, but the chances of this happening are slim.
As it stands, Teefury is an awesome site that offers new artists the chance to see their work on the chest's of the public. I, for one, am hooked.
Here's a little taste of my collection!
This one I just purchased, and am eagerly awaiting!
This is the tee that I was on the fence about and received in the grab bag. I'm a big argyle fan, and I really enjoyed the design. It's like where a sweater vest without the lameness.
I was going through a kaiju movie phase (happens about once a year) when they posted this cool design.
This was the first shirt I bought. See if you can spot all of the references in it!
I bought this one because it reminds me of Castle Graystone.
This one is dumb, I can't lie. Grab bag special, gave it to my cousin, who likes it. As long as someone does, haha.
This one is cool, but it's a little plain. The design is freakin' awesome though.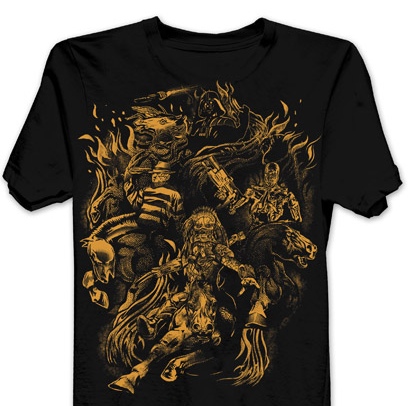 I also have two Teefury bird designs, but I can't find images of them on the site. I hope this post gave everyone a nice introduction to Teefury, add it to your feed reader and prepare to be the only person in town with your shirt!